Study at home with REA.
Test at home with Proctortrack
Are you hoping to start earning college credit with CLEP® exams, but never quite find enough time to go to the nearest test center? Thanks to REA's partners at Proctortrack, a global leader in online proctoring, CLEP® credit-by-exam now comes to you.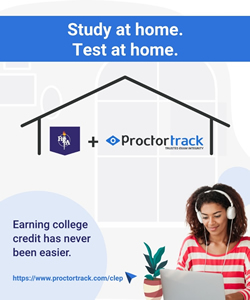 Study at home with REA. Then test at home with Proctortrack, the College Board's exclusive provider of remote-proctored CLEP® exams. Proctortrack delivers exams wherever you are with the identical timing, content, format and on-screen experience you would get at a CLEP® test center.
To celebrate this alliance, REA is offering exceptional savings on our CLEP® study guides at Amazon. Visit our Amazon CLEP® store today and enter promo code 30REACLEP at checkout to save 30% OFF any title in our CLEP® prep catalogue.
Schedule your next CLEP® exam with Proctortrack. Then make sure you pass with REA.
With REA and Proctortrack in your corner, your degree may be closer than you think!
REA's Study System for CLEP®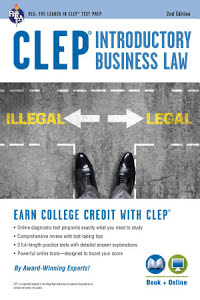 Our study system helps you prepare for your CLEP® exam with a personalized 3-step plan:
1. Focus Your Study
Score reports from our online diagnostic test give you a fast way to pinpoint what you already know and where you need to spend more time studying.
2. Review with the Book
Armed with your score reports, you can personalize your prep by concentrating on the topics that challenge you the most.
3. Measure Your Test-Readiness
The score reports from our online practice exams will let you know if you've mastered the material, or need further review to ensure you're ready for exam day.