Complete your AP® Prep
with REA Crash Course®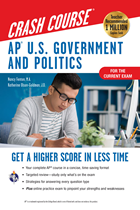 Study Only What You Need to Know
REA Crash Course® focuses only on the topics tested on AP® exams, so you can make the most of your study time. It's perfect for the time-crunched student, last-minute studier, or anyone who wants a refresher on the subject.
Expert Test-Taking Strategies
Packed with powerful test strategies and unmatched insight into the workings of the exam, Crash Course® helps you boost your score with advice and tips from our AP® teachers who know the test from the inside out.
Confidence-Building Practice
Never be surprised about what's on the AP® exam. Our full-length online practice exams with diagnostic feedback, automatic scoring, and detailed answer explanations pinpoint your strengths and weaknesses to ensure you're ready for test day.