AP® - Online Resources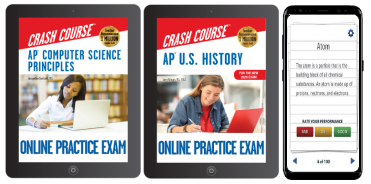 No time to review hundreds of pages before your test?
REA's online study tools help you focus your AP® prep, offering instant access from your computer, smartphone, and tablet.
Diagnostic Quizzes: Pinpoint your areas of weakness and efficiently focus your review.
Customizable E-Flashcards: Create your own cards, track your progress, and practice where you need it the most.
Full-Length Practice Exam: Instant score reports and topic-level analysis help ensure you're ready for test day.
Make Sure You're Fully Prepared
High AP® exam scores can equal thousands of dollars in college tuition!
Popular Online Prep:
AP® U.S. History
AP® English Language & Composition
AP® Biology
AP® Calculus AB & BC

CLEP® - Online Resources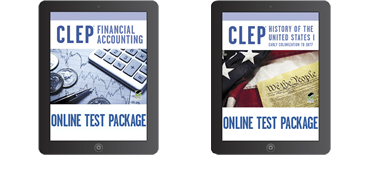 Don't waste your precious time reviewing content you've already mastered.
REA's online CLEP® packages show you how to effectively utilize your study time to achieve the highest possible score.
Online Diagnostic Exam: Identify your strengths and weaknesses, so you can concentrate on the appropriate topics.
Comprehensive Practice Exams: Test yourself by taking two full-length timed practice exams included for each subject.
Instant Score Reports: Manage your study with immediate access to score reports and detailed explanations of answers.
A great value.
Save thousands of dollars in college tuition by passing your CLEP® exam.
Popular Online Prep:
Accounting and Business
Composition and Literature
History, Social Sciences & Foreign Language
Science, Mathematics & Computer Science