All Access™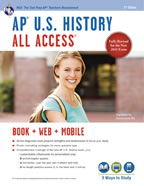 There are many different ways to prepare for an AP® exam. What's best for you depends on how much time you have to study and how comfortable you are with the subject matter. To score your highest, you need a system that can be customized to fit you: your schedule, your learning, and your current level of knowledge.
The All Access system allows you to create a personalized study plan through three simple steps: targeted review of exam content, assessment of your knowledge, and focused study in the topics where you need it the most.
Complete your AP® Prep
with REA Crash Course®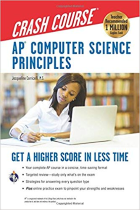 After All Access: A Rapid Review
Once you have finished your All Access review, turn to REA Crash Course®. It is the fastest way to raise your score during the last few weeks before the exam.
Study Only What You Need to Know
REA Crash Course® covers only the information tested on the exam, helping you make the most of your study time. It is based on an in-depth analysis of past AP® exams and actual AP® test questions and includes detailed, question-level strategies for multiple-choice, essay, and free response questions.
Free Online Practice Exam
REA Crash Course® includes a full-length practice exam with the same powerful diagnostics used in All Access.