Fun ESL Learning
English the American Way® Series
The accent is on FUN in these friendly guides to English language and culture in the U.S. Learn tons of new vocabulary. Improve your communication and pronunciation skills. Listen to short dialogues and read about interesting aspects of American culture. Learn wacky idioms, usage, and yes, some slang. Get great tips about social customs and everyday situations. Fun-filled quizzes and audio dialogues make it easy to practice, practice, practice until you're perfect!
Meet The Authors
Together, Jane and Sheila have teaching credentials in several states and on two continents. With years and years of experience (they just don't want to count them all!), they've taught ESL to little kids, university students, adult workers, company executives, and other teachers in the U.S. and Europe.
They have served as members of the NJ Dept. of Education Advisory Committee for ESL/Bilingual Education, facilitated online ESL training courses and won several awards, including three Teacher-of-the-Year awards and corporate citations for excellence. They've given numerous presentations and have written curricula and syllabi for diverse ESL populations. Add to this some fun teaching projects… and you've got two authors who know how to have a good time writing a book!
About the Books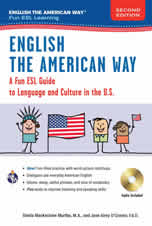 English the American Way, A Fun ESL Guide to English Language and Culture in the U.S. is your companion to everyday life in the United States. You'll find tons of vocabulary and informal language used in real-life ways. Have fun improving your speaking and pronunciation skills as you learn about American customs. Get tips on making friends, getting around town, deciding on a place to live, finding the perfect job, handling an emergency, and much more! Includes CD & audio download.
College the American Way, A Fun ESL Guide to English Language and Culture in the U.S. answers the who? what? where? why? and how? questions about college life in the U.S. Learn who can help, what to do, where to go, why to check out housing and meal plans, and how to . . . have fun! Each easy-to-read part is full of vocabulary, informal language, idioms, phrasal verbs, dialogues, and activities. Includes CD & audio download.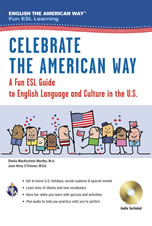 Celebrate the American Way, A Fun ESL Guide to English Language and Culture in the U.S. takes you on a year-long journey through American social customs, highlighting the meanings behind the U.S. holidays and seasonal events. Learn why Americans mark Independence Day on July 4th, discover the history of Thanksgiving, get tips on wedding etiquette and more! Plus, tons of vocabulary, common expressions, wacky idioms, commonly confused words, and fun-filled quizzes. Includes CD & audio download.